This site uses the tools of modern economics and game theory to explore how the interaction of intelligent goal-seeking individuals determines social outcomes. Find out more about game theory.


Forecasting elections: It is all about voter turnout. Here is what 538 does not understand. [Posted at 11/02/2020 05:37 AM by David K. Levine

]


Monopoly: The modern field of industrial organization seems to have spent decades chasing itself into smaller and smaller circles while the real and serious problems of monopoly go ignored. James A. Schmitz, Jr. is trying to remedy this with his monumental indictment of modern monopoly: read his book Monopolies Inflict Great Harm on Low- and Middle-Income Americans Or get a taste of it with his shorter articles on his website. [Posted at 05/23/2020 02:17 AM by David K. Levine

]


Covid 19: A group of economists and scientists planning how to get us out of this mess. [Posted at 03/26/2020 12:11 PM by David K. Levine

]


Global Warming: What Sort of Mess Have We Made: An essay detailing my conclusions from reading the economic literature on climate change. [Posted at 12/03/2019 04:33 AM by David K. Levine

]


An interview on intellectual property: With James Corbett of the corbettreport [Posted at 07/17/2019 07:34 AM by David K. Levine

]


Intervention:


and peace? [Posted at 10/18/2018 02:29 AM by David K. Levine

]


Perilous Populism: We have a new website about the perils of populism discussing our research on democracy, corruption, lobbying and the behavior of political groups and how it may help. [Posted at 04/18/2017 05:13 AM by David K. Levine

]


Is Behavioral Economics Doomed?: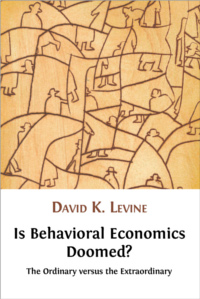 Now available everywhere From Openbook Publishers - a new open access book about traditional and behavioral economics. [Posted at 06/20/2012 08:05 AM by David K. Levine

]


Latest papers (more papers, more research, more news)

"The Whip and the Bible: Punishment Versus Internalization" [10/16/20] (with R. Dutta and S. Modica)


"Success in Contests" [08/17/20] (with A. Mattozzi)


"Sins of Omission and Commission in Complex Systems" [08/04/20] (with D. Fudenberg)


"Fine Cartels" [08/04/20]


"Voter Turnout with Peer Punishment" [06/01/20] (with A. Mattozzi)



Questions about economic or game theory? Try our forum.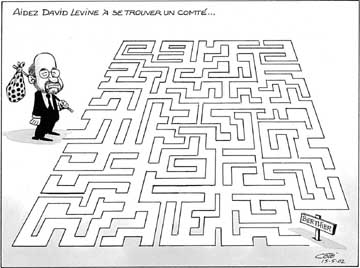 ---

General interest material about game theory, including an introductory essay, a reading list, and a forum for questions and answers. You can also find information about the work of Armen A. Alchian, Jack Hirshleifer and other general interest material.

Play a game: challenge the on-line forecaster, engage in the cooperative learning game or solve a game using the zero-sum game solver.

About this site and the server it resides on. If you are google or another search engine, you will want to read the listing of papers in the archive.